Building a roof of sunshine center – "new headquarters" of sunshine group was about to come into operation
Last time, simultaneously implemented a series of "huge" projects of luxury apartments, and the upcoming time, will be the resorts, aerial villas, low-rise villas, and the total construction investment amount will be up to USD billions, Sunshine Group is one of the few groups that has soon asserted its leading position on Vietnam's real estate map.
Recently, the information that Sunshine will relocate its headquarters to Sunshine Center (16 Pham Hung street) has been more or less curious in the public's interests, when more than 3000m2 of floor area that is using as its current headquarters will be the entire 43rd floor of Keangnam Landmark 72, which ranked the first class of luxurious and expensive office towers in Hanoi.
Certainly, Sunshine Center will be a project with a special impression, because Sunshine Group has long been known as a "playboy" owner, putting "strong hands" to invest in its real estate projects.
On August 10, this project officially took off the roof, marking an important milestone in the process of construction and finishing works. "This is one of the key projects of Sunshine in Hanoi, we send a lot of enthusiasm as well as focus on investing in construction and finishing with the most advanced and modern materials and technologies." representatives of the Investor in the Topping Up Ceremony emphasized in front of the media and a large number of visitors.
The "most luxurious and brightest building in the west of Hanoi"
With a strategic "golden" location on Pham Hung – considered as a "diamond" street in the west of Hanoi, Sunshine Center inherits the full advantages of transport infrastructure and social culture of My Dinh which is always ranked among the top areas of the average price for renting apartments and offices.
Besides, the meticulous thoroughness of the owner is shown right in the architecture of the building with modern designs highlighted royal, aristocratic features.
With advanced design and construction solutions, Sunshine Center will be a building of light and technology as it comes into operation. Its outstanding led system with many unique effects makes this place become the lighting center of Hanoi every night. The entire exterior of the building is covered by an extremely modern Low-E glass system with ultraviolet protection, sound and heat insulation, perfectly suitable for enhancing the value of spacious apartments equipped with imported furniture from expensive brands in the world such as Kohler (sanitary ware), Porta Doors, Misubishi (air conditioner), Eurowindow (glass doors), furnitures from Italy …
Another plus point for Sunshine Center is that it owned a series of 5-star utilities which not all projects are available right in the area such as aristocratic style swimming pool, helicopter parking on the building rooftop, Canadian standard kindergarten – Sunshine Mapple Bear, super luxurious interior showroom, and international class complex of sport, trade, and entertainment services.
Technology 4.0 and the application trend of the Internet of Things
With a total investment of VND 2,000 billion, Sunshine Center makes a strong impression in the market when it is invested in technology methodically such as Smart Home app, Sunshine Pay e-wallet, Sunshine Cab shuttle, smart card system, 5-layer security system, digital video doorbells, security control system with facial recognition technology, which will guarantee residents a comfortable life, coresponding to its class.
In particular, the virtual interaction floor is the area where all the Sunshine Group's real estate projects are concentrated. Independent of the project located in any province in the country, customers can still thoroughly explore all the details of the apartment through 3D Interactive technology. This is also a great step of Sunshine Group for helping to make the market transparent, and for changing the way customers interact with the project strongly.
Besides, the Sunshine Center building is also equipped with intelligent parking systems. Accordingly, customers will be notified by the app on their smartphone in advance of the vacancy in the parking lot, so that they can book and reserve the parking space for 30 minutes before coming to work or returning home. In the context that most of the parking lots of tall buildings are being crowded and overloaded, this technology solution helps drivers save time and be proactive and easier to find their parking position.
With outstanding advantages, experts have predicted that Sunshine Center will become one of the few most luxurious buildings on Pham Hung street, "the magnet" attracts many customers putting their money into the most expensive areas in the west of Capital.
Sunshine Center (16 Pham Hung, Nam Tu Liem, Hanoi) is a high-class real estate project developed by Sunshine Group – The developer of Sunshine Marina Nha Trang Bay, Sunshine City, Sunshine Center, Sunshine Garden, Sunshine Palace, Sunshine Riverside, Sunshine Sky Garden … in Nha Trang, Hanoi and other provinces in the country. The outstanding feature of Sunshine Group is the pioneer in applying 4.0 technology in project management and operation.
For further information about the project and purchasing apartments in Sunshine Center, please contact:
Website: http://center.sunshinegroup.vn/
Fanpage: https://www.facebook.com/center.sunshinegroup/
Hotline: 18006863
Nguồn: Dân trí.
---
Others news
SALES POLICIES IN MAY 2020
07/05/2020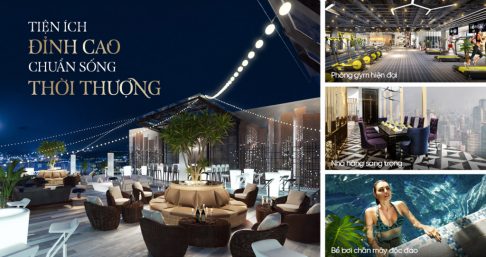 "Sunshine Group would like to send our customers the sales policies in May 2020 and the latest information about the Sunshine Center"
See detail
Warmly admire the glowing buildings throughout the night, encouraging the spirit of Vietnam to join hands against the Covid-19 epidemic
30/03/2020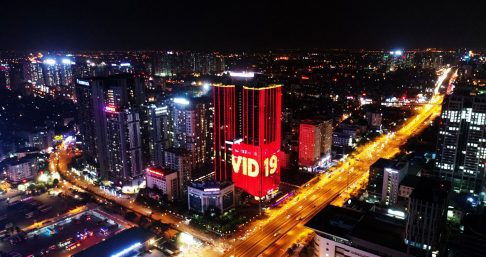 Facing complicated developments of the Covid-19 epidemic, big cities like Hanoi and Ho Chi Minh City
See detail
Buying a home for Tet: Where to choose an apartment to find good fortune?
08/11/2019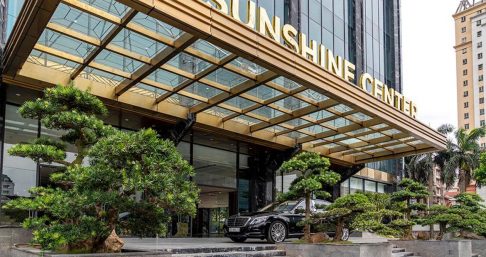 Buying a house near Tet holiday, single and double benefit Signing the sales contract to officially become the owner of the apartment at Sunshine Center, one of the most beautiful projects in My Dinh area, Ms. Thuy Hanh and her husband could not hide the thrill mixed with happiness. Hanh emotionally shares: "So this year, […]
See detail