Attractive profitable potential from high-class apartment for rent in My Dinh area
My Dinh – "Potential" land for the market of high-class apartment for rent
In recent years, thanks to the planning policy and the explosion of infrastructure in the West of Hanoi Capital, My Dinh area had a "rapid" makeover. Gathering many offices, head offices, large domestic and foreign enterprises with the appearance of a series of office buildings such as Keangnam Landmark, Song Da Tower, CEO Tower or buildings in Duy Tan area, Cau Giay … My Dinh brings about a huge demand for apartments for staff, foreign experts to live and work.
Through actual observation, My Dinh is now considered a "new land", in which Koreans, Chinese, and Japanese live most in Hanoi. Foreign visitors are willing to spend a large amount of money on their settlements. However, they have quite high standards when it comes to choose apartment. They are not only strict on the location, quality of the apartment, facilities of the project such as gym, swimming pool, and the restaurant, they also worry about convenient transportation, safety and security.
However, according to real estate experts' opinion, recently, My Dinh area does not have many projects which meet the requirements of foreign customers on settlement. Additionally, with the regulation of not selling to foreign customer over 30% of the total number of apartments, it leads to the fact that the demand of renting an apartment of foreigner is absolutely huge.
The overheating market has opened up for high-end apartment owners in My Dinh great profit opportunities. In 2018, according to CBRE's report on the Hanoi real estate market, the West of the Capital (including My Dinh) is the region with the highest profitability rate for rental housing, with the number of was 5.7%, compared to the average of Hanoi, 5%. This rate is leading the countries in the region and is considered more attractive than neighboring markets. This is the reason why many foreign investors quickly seize the opportunities in the west of Hanoi.
At present, the renting cost of an apartment for foreign customer in My Dinh area is from 1500 to 2000 USD for 100-150m2 apartments. This definitely will be potential land, which cannot be passed for wise investors.
Attractive profitable potential from leasing Sunshine Center apartment
Being a discerning investor in the field of leasing luxury apartments, Mr. Tran Trung (46 years old, Tay Ho, Hanoi) did not miss the opportunity to profit: "I have researched quite carefully the projects around My Dinh. After directly visiting the Sunshine Center project I decided to "place an order" this project. Most importantly, Sunshine Center is also the choice of many other big investors.
Located on Pham Hung arterial road, Sunshine Center makes many people admire, a luxurious building entirely surrounded by sophisticated Low – E glass.
At night, Sunshine Center stands out with light performance by colorful and modern Led light system
Being a mission of high-class society's project, Sunshine Center provide apartment with area from 110 to 160m2, 3-4 bedroom design meeting the requirement of successful people. Each Sunshine Center floor has only 6-7 apartments, arranged with 3 elevators. The building is equipped with 3 separate elevator systems: Residents, Offices and High-end shopping mall.
This is the only one building to use 5 layers security system, including: Security gate, security gate at basement (parking lot), Check in home, Check in service, Checking in elevator to ensure the security for the residents
The project deserves to be the focal point of luxury lifestyle when bringing luxurious living experiences from many world famous furniture brands that Sunshine Group has rigorously selected. Apartments are also designed with additional reading rooms, offices or even private walk-in closet, jewelry or gym at home. Residents will enjoy all utilities in their own apartment.
Additionally, there is a combination of strong and modern European and American features of the outside of the building with the elegance, Italian style inside, from the interior showroom to the luxurious restaurant area. Everything makes the irresistible attractiveness for the investors
In addition, smart 4.0 technology applications at Sunshine Center such as Face ID face recognition, Sunshine Pay e-wallet, Sunshine Cab ride-hailing service, … provide an upscale lifestyle in West of the city.
"Converging with many high-class living values, meeting both the demand for accommodation and rental, Sunshine Center deserves to be the pinnacle choice for all customers. Compared to the others, investing in apartments here can help investors earn thousands of dollars each month is sensible "- a representative of Sunshine Group shared.
Currently, Sunshine Center is finishing final steps before handing over the apartments, becoming focal point in real estate market. In this period, investor offers preferential sale policy for customer purchasing apartments in Sunshine Center. Accordingly, customers have opportunities to get USA trip; 5 tael of SJC gold, total value up to 300 million dong and a set of diamond jewelry, worth 200 million dong.
For further information about the project and purchasing apartments in Sunshine Center, please contact:
Hotline: 1800 6863
Website: http://center.sunshinegroup.vn/
Fanpage: https://www.facebook.com/center.sunshinegroup/
---
Others news
SALES POLICIES IN MAY 2020
07/05/2020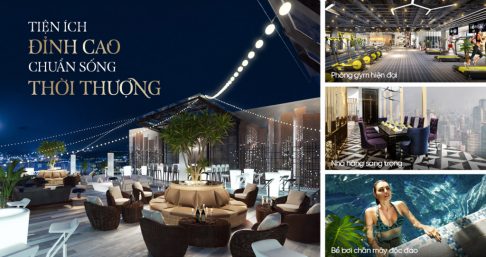 "Sunshine Group would like to send our customers the sales policies in May 2020 and the latest information about the Sunshine Center"
See detail
Warmly admire the glowing buildings throughout the night, encouraging the spirit of Vietnam to join hands against the Covid-19 epidemic
30/03/2020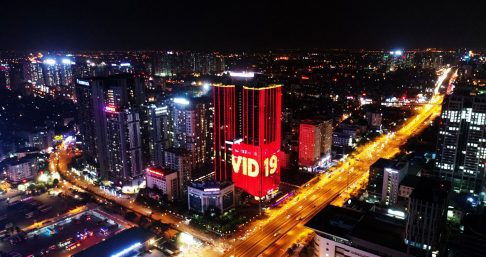 Facing complicated developments of the Covid-19 epidemic, big cities like Hanoi and Ho Chi Minh City
See detail
Buying a home for Tet: Where to choose an apartment to find good fortune?
08/11/2019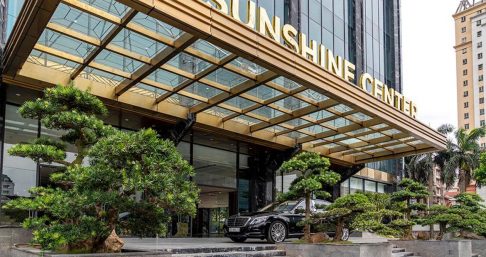 Buying a house near Tet holiday, single and double benefit Signing the sales contract to officially become the owner of the apartment at Sunshine Center, one of the most beautiful projects in My Dinh area, Ms. Thuy Hanh and her husband could not hide the thrill mixed with happiness. Hanh emotionally shares: "So this year, […]
See detail